Yangon – Bagan - (Ayravata Bagan / Mandalay 2night cruise) - Mandalay - Pindaya - Inle Lake – Yangon
(10days / 09nights)
Private tour with Escort guide
Summer Dept dates: (02,06,09,13,16,20,23,27,30 April 2010) with Paukan Cruises
* The dept is guaranteed only with minimum 12 passengers which they will reconfirm
2mths in advance.
Winter Dept dates : Every Tue & Fri (19 Oct 2010 till 31 Mar 2011) with Paukan Cruises *Dept guaranteed.
* New Year's Eve Cruise Departure (31st December 2010): Rates and detailed programme TBA
Day 01 : (Tue/Sat) Yangon Arrival (L,D)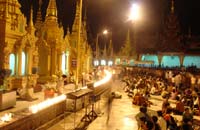 Arrive at the Yangon International Airport. Welcome by our assigned guide and transfer to Hotel. Check in Hotel.
Lunch will be served at local restaurant.
Afternoon, excursion to Shwe Dagon Pagoda, one of the wonders of the world and the most venerated Buddhist Monument in Myanmar, where one can see the lifestyle of Myanmar People.
Dinner at hotel. Overnight at Hotel.
Day 02 : (Wed/Sun) Yangon-Bagan: by flight (B,L,D)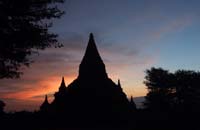 Breakfast at hotel.
Transfer to Airport and fly to Bagan, the Ancient Capital and Birth place of Myanmar Culture. Morning sightseeing begins with visit to the Shwezigon Pagoda, the prototype of later Myanmar satupas; Wetkyi-in Gubyakkyi Temple, with fine mural paintings of jataka scenes; Htilominlo Temple, noted for its plaster carvings; the Tharaba City Gate, the oldest extent of Bagan architecture.
Lunch at local restaurant.
Afternoon visit begins with lacquer-ware factory, Myinkaba Gubyaukkyi Temple, a typical Mon style temple; Manuha Temple, a captured king's impression of life in prison; Nanpaya Temple; an earliest masterpiece with its fine stone carvings; photo stop at Seinnyet Nyima Pagodas, a temple and a stupa with exquisite design and sunset from a suitable temple or pagoda.
Dinner at hotel and overnight in Hotel.
Day 03 : (Thur/Mon) Bagan (B,L,D)
Breakfast at the hotel.
Morning sightseeing in South East Bagan featuring 13th century temples; Nandamanya; Thambula and Lemyethna Temples, noted for their fine mural paintings of Mahayanist character.
Lunch at local restaurant.
Ananda Temple, an architectural masterpiece resembling a Greek Cross; Thatbyinnyu, the highest of Bagan Temples; and Bupaya Pagoda, a Pyu style pagoda on the brink of the majestic Ayeyarwaddy River.
Dinner in a restaurant. Overnight at the hotel.
Day 04 : (Fri/Tue) Embark RV Paukan 2007 at Bagan (B,L,D)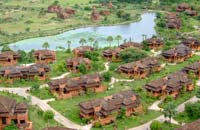 Breakfast at hotel.
Morning transfer to the Jetty.
Bagan – Cruising Upstream to Yandabo (Stop in a River Village)
The embarkation is 10.00 hrs at Bagan Shwe-kun-char jetty. Welcome Cocktail in the Saloon.
Upstream to Mandalay
The Cast off time is at 10.30 hrs.
Lunch will be served at 13.00.
Cruise upriver the whole day with stop in a river village before reaching Yandabo where we stop for the night.
Day 05 : (Sat/Wed) Between Ancient Bagan and Royal Mandalay (B,L,D)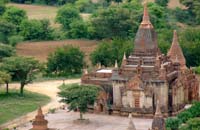 Upstream to Mandalay
Early morning visit Yandabo, a typical river village specialize in Pot-Making, where the peace treaty of the First Anglo-Burmese war was signed on Feb. 24, 1826.
Moor overnight nearby a village (Ywar Thit Gyi or Pauk Myaing Pauk Taw) few miles away from Ava Bridge.
Day 06 : (Sun/Thur) Between Ancient Bagan and Royal Mandalay (B,L,D)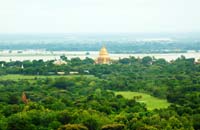 MANDALAY (GAWEIN)
Check-Out Time
Enjoy the sunrise. After an early breakfast, the passengers will disembark at Gawein jetty at
around 09.30 hrs.
Transfer to the hotel and check in.
Lunch at local restaurant.
After lunch, visit Maha Muni Buddha Image and handy crafts workshops such as making of gold leaves, woodcarvings, marble carvings etc. Then proceed to Shwe Kyaung, a monastery once King Mindon's royal palace apartment for meditation, incomparable Atumashi monastery and ending up the day with Mandalay Hill, vantage point for the view of Mandalay.
Dinner at hotel and overnight at hotel.
Day 07 : (Mon/Fri) Mandalay and surrounding (B,L,D)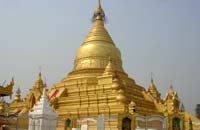 Breakfast at hotel.
Morning excursion to Ancient Capital Amarapura, 11 Kilometers south of Mandalay visiting Mahagandayon monastery; 1.2 kilometer long U Bein Wooden Bridge and visit handicraft workshop.
Lunch at a restaurant.
Afternoon excursion to Mingun, a village on the western bank of Ayeyarwaddy River. Tour highlights include Settawya Pagoda with a marble foot print of Buddha; Pondawyapaya, nearby the river; Pahtodawgyi, an enormous pile of bricks is all that remains of King Bodawpaya's grandiose scheme; Mingun Bell, the world's largest ringing bell weighing 90 tons; Mingun Village; and Shinbume Pagoda, most attractive pagoda built in 1816 by King Bodawpaya's grandson in memory of one of his wives.
Dinner at a local restaurant. Overnight at hotel.
Day 08 : (Tue/Sat) Mandalay-Heho: by flight / Heho-Pindaya-Inle: by car (B,L,D)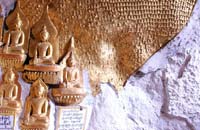 Breakfast at the hotel.
Transfer to Airport for the flight to Heho, the Shan State known for its colourful markets, scenery, country sides and especially its people, a mixture of tribal races. Transfer from Heho airport to Pindaya, a small quite town, enjoying scenic beauty along the country side.
Lunch will be served at local restaurant en route.
Afternoon excursion of the town, visiting the lake and the Pindaya Cave, well known for its countless Buddha Images. Drive to Inle, 100km from Pindaya.
Dinner at hotel and overnight in Hotel.
Day 09 : (Wed/Sun) Inle (B,L,D)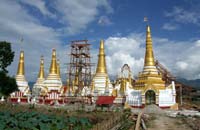 Breakfast at the hotel. Full day excursion of the lake well known for its scenic beauty and its unique leg rower Tour highlights include Phaung Daw Oo Pagoda; wonderful floating gardens; native method of fishing; traditional weaving villages; village life in the lake and ancient Shan monastery at Ngaphaechaung.
Lunch during sightseeing.
Dinner at hotel and overnight in hotel.
Day 10 : (Thur/Mon) Inle-Heho: by car / Heho-Yangon: by flight (B,L)
Yangon-International departure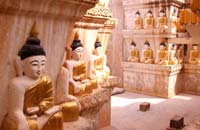 Breakfast at the hotel.
Transfer to Heho Airport to take the flight to Yangon.
Lunch in a restaurant.
If the time permits, visit Sule Pagoda for photo stop and City Centre and shopping at Bogyoke Aung San Market (Scott's Market) which closed on Mondays and Public holidays.
Dinner and overnight in Hotel.
Evening transfer to Yangon International Airport for the International Departure Flight.
Note: The above programme is subject to change with or without prior notice due to factors such as weather, domestic flight availability, road transport conditions and etc.
***** Extension to Ngapali Beach *****
Thandwe (Ngapali Beach) has direct flights from Yangon and Sittwe.(Operate from Oct to May). Please refer to the "Beach Resorts" section.