Yangon - Pyay - Bagan - Mount Popa - Mandalay - Pindaya - Inle Lake-Yangon
(11 days / 10 nights)
Departure from Yangon: Daily
Private tour without guide service for free independent travellers.
Please note that the visits described in the program are only our suggestions, so minor changes can be done according to the wish of the guests upon booking period.
Day 01 : Yangon Arrival (L,D)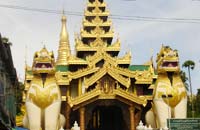 Arrive at Yangon International Airport, welcome by our driver and transfer to hotel.
Afternoon, visit Shwe Dagon Pagoda, can be said one of the wonders of the world where one can see the lifestyle of Myanmar people from all walks of life.
Overnight at the hotel.


Day 02 : Yangon-Pyay: by car for 6 hours (B)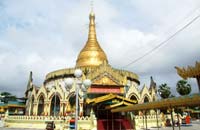 Breakfast at Hotel. Morning visit to Chaukhtatkyi Pagoda, a colossal reclining Buddha; Kabar Aye (World Peace Pagoda) and Maha Pasana Guha Cave, where the Sixth Buddhist Synod took place.
Afternoon drive to Pyay, formerly known as Prome.
Overnight at the hotel.
Day 03 : Pyay-Bagan: by car for 8 hours (B)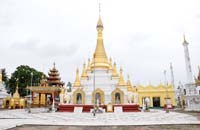 Breakfast at hotel.
Morning visit Shwe Sandaw Pagoda, Payagyi Stupa built by Pyu people and old city site of Sri Khistra and Hmawza Museum with a collections of artifacts from Pyu period. Then transfer to Bagan, the Ancient Capital and Birth place of Myanmar Culture.
Afternoon arrive to Bagan.
Overnight at the hotel.
Day 04 : Bagan (B)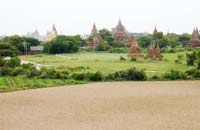 Breakfast at the hotel.
Morning sightseeing begins with visit to the Shwezigon Pagoda, the prototype of later Myanmar stupas; Wetkyi-in Gubyakkyi Temple, with fine mural paintings of jataka scenes; Htiminlo Temple, noted for its plaster carvings; the Tharaba City Gate, the oldest extent of Bagan architecture.
Afternoon visit begins with lacquer-ware factory, Myinkaba Gubyaukkyi Temple, a typical Mon style temple; Manuha Temple, a captured king's impression of life in prison; Nanpaya Temple; an earliest masterpiece with its fine stone carvings; photo stop at Seinnyet Nyima Pagodas, a temple and a stupa with exquisite design and sunset from a suitable temple or pagoda.
Overnight at the Hotel.
Day 05 : Bagan (B)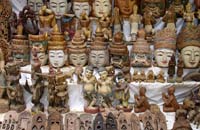 Breakfast at the hotel.
Morning sightseeing in South East Bagan featuring 13th century temples; Nandamanya; Thambula and Lemyethna Temples, noted for their fine mural paintings of Mahayanist character and visit lacquerware industry.
In the afternoon, sightsee to Ananda Temple, an architectural masterpiece resembling a Greek Cross and Thatbyinnyu, the highest of Bagan Temples; and Bypaya Pagoda, a Pyu style pagoda on the brink of the majestic Ayeyarwaddy River.
Overnight at the hotel.
Day 06 : Bagan-Mount Popa-Mandalay: by car for 8 hours (B)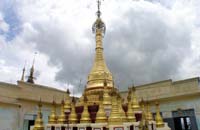 Breakfast at the hotel.popa01Morning transfer by coach to Mandalay, the Capital of the last Myanmar monarch, a 300 km north east of Bagan. The land route journey is about 10 hrs allowing to see the vegetation of the central dry zone, the way of life of farmers and rice cultivation. On the way visit Mount Popa, extinct volcano famous as oasis of the central dry zone and home of the spirits (Nats).
Arrive Mandalay.
Overnight in hotel.
Day 07 : Mandalay-Mingun-Mandalay: by boat (B)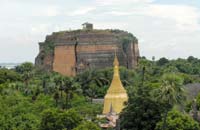 Breakfast at the hotel.
Morning excursion to Mingun, a village on the western bank of Ayeyarwaddy River by boat. Tour highlights include Settawya Pagoda with a marble foot print of Buddha; Pondawyapaya, nearby the river; Pahtodawgyi, an enormous pile of bricks is all that remains of King Bodawpaya's grandiose scheme; Mingun Bell, the world's largest ringing bell weighing 90 tons; Mingun Village; and Shinbume Pagoda, most attractive pagoda built in 1816 by King Bodawpaya's grandson in memory of one of his wives.
Afternoon Mandalay tour include venerable Mahamuni Pagoda; Shwe Kyaung Monastery, noted for its exquisite wood carvings; Kuthodaw Pagoda, known as the world's Biggest Book for its stone slabs of Buddhist scriptures: and Mandalay Hill, advantage point for panoramic view of the city.
Overnight at Hotel.
Day 08 : Mandalay-Amarapura-Sagaing-Mandalay (B)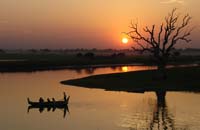 Breakfast at Hotel.
Morning excursion to Ancient Capital Amarapura, 11 Kilometers south of Mandalay visiting Mahagandayon monastery; 1.2 kilometer long U Bein Wooden Bridge and visit silk-weaving factory.
Afternoon excursion to Sagaing driving over Inva (Ava) Bridge across the Ayeyarwaddy river. Sunset from picturesque Sagaing Hills, a retreat for Buddhist devotees with numerous pagodas and monasteries.
Overnight in Hotel.
Day 09 : Mandalay-Pindaya: by car about 7/8 hours (B)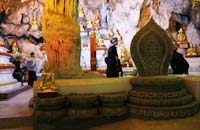 Breakfast at hotel.
Drive to Shan state. The road to Pindaya passes through a very beautiful scenery of the Shan Plateau. Visit the lake and the famous caves with hundreds Buddha images.
Over night at Pindaya.


Day 10 : Pindaya-Inle Lake: by car for 3 hours (B)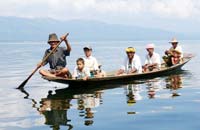 Breakfast at hotel. Morning drive to the Inle Lake. Excursion of the lake well known for its scenic beauty and its unique leg rower. Tour highlights include Phaung Daw Oo Pagoda; wonderful floating gardens; floating market on its market day; native method of fishing; traditional weaving villages; and village life in the lake.
Overnight at hotel.
Day 11 : Inle Lake-Heho: by car / Heho-Yangon: by flight (B)
Yangon-International departure
Breakfast at hotel.
Morning transfer to Heho airport for the flight to Yangon.
If the time permit, visiting city tour, Sule Pagoda and Shopping.
Evening transfer to Yangon International Airport for the departure flight.
Note: The above program is subject to change with or without prior notice due to factors such as weather, domestic flight availability, road transport conditions and etc.
***** Extension to Ngapali Beach *****
Thandwe (Ngapali Beach) has direct flights from Yangon and Sittwe.(Operate from Oct to May). Please refer to the "Beach Resorts" section.