Yangon – Heho – Pindaya (Trekking) - Mandalay
(Ayravata Mandalay / Bagan 1night cruise) - Bagan - Yangon
(11 days / 10 nights)
Private tour with Escort guide
* The departure is guaranteed only with minimum 12 passengers which they will reconfirm
2 months in advance.
Winter Departure dates: Every Thursday (October 2016 till April 2017) with Ayravata Cruises
Day 01 (Thu) Yangon Arrival (L,D)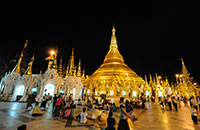 Arrive at the Yangon International Airport, meet our assigned guide and transfer to Hotel. Check in Hotel. (If available)
Lunch will be served at local restaurant.
Afternoon, excursion to Chaukhtatgyi Reclining Buddha and Shwe Dagon Pagoda, one of the wonders of the world and the most venerated Buddhist Monument in Myanmar, where one can see the lifestyle of Myanmar People.
Dinner at hotel. Overnight at Hotel.
Day 02 (Fri) Yangon-Heho: by flight / Heho-Pindaya: by car (B,L,D)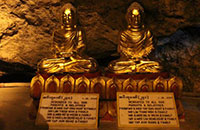 Breakfast at hotel.
Transfer to the airport for Heho, the Shan State known for its colourful markets, scenery, country sides and especially its people, a mixture of tribal races.
Lunch will be served at local restaurant.
Drive to Pindaya (about 3hrs drive) and visit Pindaya Cave, well known for its countless Buddha Images and Pindaya lake.
Dinner at hotel and overnight at Pindaya.
Day 03 (Sat) Pindaya-Taung Baw Gyi (B,L,D)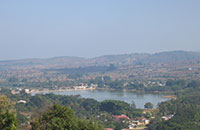 Breakfast at the hotel.
Morning visit Pindaya Market. Late morning, start the trekking to Taungbawgyi Village inhabited by the Danu hill tribe for one and a half hour.
Lunch in the village.
Enjoy the village life. If time permits visit nearby Hnin shu gone village.
Dinner with hill tribes traditional dances (if available).
Overnight in the monastery at Taung baw gyi village. (Please note only very simple and basis facility will be available at the monastery).
Day 04 (Sun) Taung Baw Gyi-Si Kya Inn / Pindaya-Inle (B,L,D)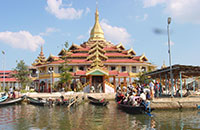 Breakfast at the hotel.
Trekking to Si-kya-inn village about one and a half hour. Enjoy the native way of living and cultural and religious features of the village. Snack and rest for a while.
After this trek to Htwet Ni village for one hour. Take the transfer back to Pindaya.
Lunch at local restaurant in Pindaya and transfer to Inle Lake.
Arrive Inle lake, have dinner and overnight.
Please note: End of May to Mid October is rainy season in Myanmar, so the trekking road may be slippery and we would like to recommend to bring good/appropriate shoes.
Day 05 (Mon) Inle (B,L,D)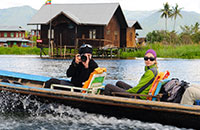 Breakfast at Hotel.
Excursion of the lake well known for its scenic beauty and its unique leg rower. Tour highlights include Phaung Daw Oo Pagoda; Ngaphae Chaung typical Shan Monastery of jumping cats; wonderful floating gardens; native method of fishing ; traditional weaving villages; and village life in the lake.
Lunch will be served at local restaurant in the lake.
Dinner at hotel and overnight in Hotel .
Day 06 (Tue) Inle-Heho: by car / Heho-Mandalay: by flight (B,L,D)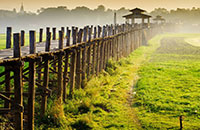 Breakfast at hotel.
Late morning or early afternoon transfer to Heho Airport and proceed to Mandalay, The ancient capital of Myanma Monarch. Arrive Mandalay, transfer to the hotel for check in.
Lunch will be served at local restaurant during the tour.
Dinner at hotel and overnight in a hotel.
Day 07 (Wed) Mandalay-Amarapura-Mingun-Mandalay (B,L,D)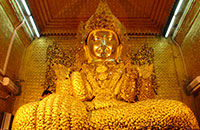 Breakfast at hotel.
Morning visit to the Mahamuni Buddha Image and excursion to Ancient Capital Amarapura, 11 Kilometers south of Mandalay visiting Mahagandayon monastery; 1.2 kilometer long U Bein Wooden Bridge and visit silk-weaving factory.
Lunch at local restaurant.
After lunch, excursion to Mingun, a village on the western bank of Ayeyarwaddy River by boat. Tour highlights include Settawya Pagoda with a marble foot print of Buddha; Pondawyapaya, nearby the river; Pahtodawgyi, an enormous pile of bricks is all that remains of King Bodawpaya's grandiose scheme; Mingun Bell, the world's largest ringing bell weighing 90 tons; Mingun Village; and Shinbume Pagoda, most attractive pagoda built in 1816 by King Bodawpaya's grandson in memory of one of his wives.
Dinner at hotel and overnight at Hotel.
Day 08 (Thur) From Royal Mandalay to Bagan (1night downstream to Bagan) (B,L,D)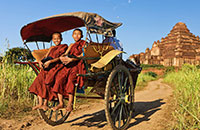 Breakfast at hotel.
Early morning visit Shwe Kyaung monastery once King Mindon's Royal Palace apartment for meditation and then proceed to Sagaing Jetty to embark Paukan Cruise.
CHECK-IN TIME (BETWEEN ROYAL MANDALAY AND ANCIENT BAGAN- DOWNSTREAM)
The embarkation time is at 10.30 hrs at SAGAING jetty. Welcome Cocktail in the Saloon.
DOWNSTREAM TO BAGAN
The cast off time is at 11.00 hrs.
Lunch will be served at 13.00. Cruise all day. In the late afternoon we stop at Yandabo, a village specialize in Pot-Making, where the peace treaty of the First Anglo-Burmese war was signed on Feb 24, 1826.
Moor overnight near a typical river village or a sandbank.
Day 09 (Fri) Disembark at Bagan (B,L,D)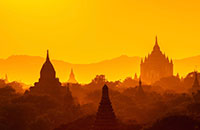 RIVER VILLAGE
Early in the morning we proceed downriver to Bagan. After breakfast (if time permits) we visit another typical river village.
CHECK-OUT TIME
Enjoy the sunrise near Bagan. Passengers disembark at Bagan Shwe-kun-char jetty at 10.00hrs. (08.45 with Rv Paukan)
Transfer from Jetty and check in Hotel.
Sightseeing begins with visit to Shwezigon Pagoda, the prototype of later Myanmar satupas; Wetkyi-in Gubyakkyi Temple, with fine mural paintings of jataka scenes; Htilominlo Temple, noted for its plaster carvings and visit lacquerware factory.
Lunch will be served at local restaurant.
Afternoon visit Myinkaba Gubyaukgyi Temple, a typical Mon Style Temple; Manuha Temple, a captured king's impression of life in prison; Nanpaya Temple; an earliest masterpiece with its fine stone carvings; photo stop at Seinnyet Nyima Pagodas, a temple and a stupa with exquisite design and sunset from a suitable temple or pagoda.

Dinner at hotel and overnight in Hotel.
Day 10 (Sat) Bagan (B,L,D)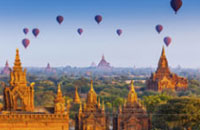 Breakfast at the hotel.
Morning sightseeing in South East Bagan featuring 13th century temples; Nandamanya; Thambula and Lemyethna Temples, noted for their fine mural paintings of Mahayanist character.
Lunch will be served at local restaurant.
After lunch, visit to Ananda Temple, an architectural masterpiece resembling a Greek Cross; and Thatbyinnyu, the highest of Bagan Temples; and Bypaya Pagoda, a Pyu style pagoda on the brink of the majestic Ayeyarwaddy River.
Dinner at local restaurant and overnight in the Hotel.
Day 11 (Sun) Bagan-Yangon: by flight (B,L)
Yangon-International departure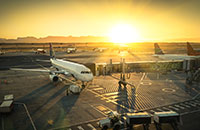 Breakfast at hotel
Transfer to Bagan Airport to take the return flight to Yangon. Arrive Yangon.

Lunch in the restaurant.

If the time permits, visit Bo Gyoke Aung San Market (Scott's Market) which closed on Mondays and gazetted holidays, Sule Pagoda for photo stop and Yangon City Centre.
Evening transfer to Yangon International Airport for the international departure flight.
Note: The above programme is subject to change with or without prior notice due to factors such as weather, domestic flight availability, road transport conditions and etc.
***** Extension to Ngapali Beach *****
Thandwe (Ngapali Beach) has direct flights from Yangon and Sittwe.(Operate from Oct to May). Please refer to the "Beach Resorts" section.