Hotels in Yangon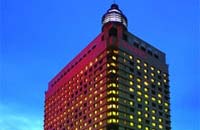 No. 223, Sule Pagoda Road, G.P.O, Box 888, Yangon, Myanmar
Tel : (951) 242828
Fax : (951) 242800
Traders Hotel, Yangon is a deluxe international hotel located in Yangon's central business, cultural and shopping district. The 242 guestrooms and suites feature luxurious decor with executive-style furniture. Traders Hotel, Yangon offers complete 24-hour business services that include complimentary wireless broadband Internet/e-mail access in the hotel's business centre, secretarial services, ticketing and travel assistance, limousine services, and postal/courier services. The hotel also offers private meeting rooms and offi
Hotels in Mandalay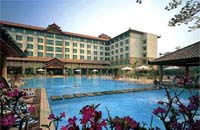 No. 01, Junction of 26th and 66th Street, Chanaytharzan Township, Mandalay, Myanmar
Tel : (951) 236488, Fax : (951) 236499
Sitting graciously on four acres of beautifully landscape gardens, Sedona Hotel Mandalay is situated right in the heart of the city and faces the city's glorious sights - the magnificent Mandalay Hill and majestic Royal Palace. Experience Sedona, where welcome is not just a word, it's our philosophy.
"... a haven of sheer sophistication and serenity offering a cosy and inviting respite for the modern travelers."
Hotels in Bagan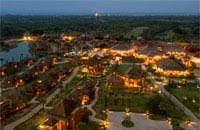 Near Bagan Viewing Tower, Min Nanthu Village,
Nyaung Oo, Mandalay Division, Myanmar
Tel / Fax : (956) 1 60046, 60047
Acknowledged by many to be the best resort hotel in Myanmar, this sprawling property of 114 upscale rooms overlooks a breath-taking scene of Bagan's pagoda-studded landscape across a lotus-dappled lake.
Hotels in Inle
Magyizin Village, Inle Lake, Myanmar
Tel : (95) 81 209055, 209363, 209364, 209365
Mobile : (959) 5251407, 5251232
Inle Princess Resort lies on the eastern bank of Inle Lake next to the Magyizin Village, the resort is surrounded by magnificent views of the blue mountain ranges and rice paddy fields. The architecture of Inle princess was drawn from the traditions and culture of the Shan and Intha people. Building started in November 1996 and the resort opened in October 1998.
Beach Hotels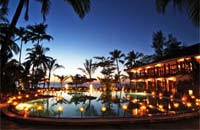 Mya Pyin Village, Ngapali Beach, Thandwe, Rakhine State, Myanmar
Tel : (95) 43 42233, 42244, 42255, 42244, 42255
Nestled amongst coconut palms on the pristine beach frontage of Ngapali Beach in the bay of Bengal, Myanmar. The luxurious resort consists of 48 Villas & Cottages, scattered throughout the 6 acres of 450 meters long beach frontage and tropical gardens, most with ocean views. The resort is designed in traditional South East Asian elegance and is constructed in local materials of various kinds of hard wood, stone carving and marble. The hotel interior has been decorated with furnishings and fittings that have been designed and produced exclusively for the Sandoway.
Hotels in Other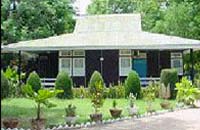 Bogyoke Aung San Road, Monywa, Myanmar
Tel : (951) 236488
Fax : (951) 236499
Located on the opposite side of Powintaung and on the main road. About 15 minutes to walk from Bogyoke statue.
Situated in the centre of the town, the Monywa Hotel Mandalay is set in a quiet area, where you can take a walk or stroll around in the serene surroundings during leisure.